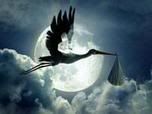 My weekend dispatch partner is just about 8-1/2 months pregnant with her second child - a boy who shall be named Cayden Jeremy once he makes his arrival on or about September 8th. Said arrival can come none too soon for my liking as this pregnancy has been just about as tough on me as it has been on Jen!
It's been said that women who work together will eventually sync and tend to run on the same cycle (chances are good someone somewhere paid good money to fund a research project on this) but I never knew this applied to pregnancies - especially when there is a chance of the proverbial snowball in hell of the other party even thinking about being pregnant! While Jen has been suffering from edema, heartburn, sciatica, and weight gain it has apparently been my duty as a good partner to suffer along with her. I've heard of the significant male half of a pregnancy having sympathy labor pains and cravings with their partner but this is ridiculous! I have already been through three pregnancies of my own with their own inherent aches, pains, and oddities and was not looking to ever go through another in this lifetime. However, I've got the edema and weight gain down perfectly and am just thankful that the sciatica and heartburn has not decided to join in ~ yet!
I'm sure that none of this would come as a surprise to our supervisor and lead dispatcher who seems to think that we're two peas in a pod most of the time anyway and refers to us as the "two red-headed dispatchers" on a regular basis (and other things that aren't exactly printable!). Despite the fact that almost 20 years to the day separate our ages (Jen's birthday is September 6th and mine is the 9th), we actually do have a lot in common which probably comes from sharing the same astrological sign. For some unknown reason, the best dispatchers always seem to be Virgos and Sagittariuns. My number one partner and still best friend in California is a Sagittariun and she will always stands out as one of the best dispatchers that I have ever had the pleasure to share a console with (miss you, Cyndi!).
At any rate, should the "sympathy symptoms" continue until Jen gives birth I am thinking of asking my supervisor if I can wear "sympathy civilian clothes" - it only seems fair! And the worst part of all this? Jen is thinking of having a third child after this one ... Say it isn't so!!!