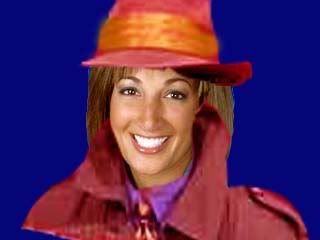 Where in the world is Rachel Lutzker???*
Anyone who has been tuning into WFSB Channel 3 News in Hartford for the past week hoping to catch Rachel Lutzker doing the Pinpoint Traffic reports has probably been quite disappointed

as she just hasn't been there

. Scott Haney has certainly been there in all of his full glory every morning but there's been neither hide nor hair seen of Ms. Lutzker.

I've got to wonder how on earth all of the Rachel-ites are surviving during her absence. I know that the guys at work are going through withdrawal symtpoms and getting quite grumpy in the process. It's amazing the amount of moaning and groaning going on all because no one has gotten their "Rachel fix" for the past week and a half!

Wherever she has gone, I certainly hope that Rachel comes back soon not only for the sake of all of the men in Connecticut (and specifically those at American Ambulance!) but also for all of the people who still continue to come to my blog via a search for Ms. Lutzker in one form or another!

*Photoshop picture courtesy of the "Art-Munkey" aka Amanda!