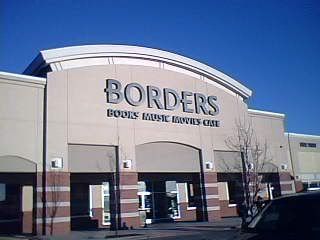 Let's say that I had a list of things that I wanted to do before I died and let's say that "Sit pretentiously at a WiFI cafe with my new laptop and surf the Internet" was on that list ... and then let's say that if I had a list and something like that was on it that I don't have very high ambitions for my life! Ah, but if I did have such a list with such an item, I could now scratch it off and be one step closer to dying happy.
Are you as confused reading that as I was writing it? Good ... I don't want to be the only one totally lost here! Must be the air quality here at Borders or perhaps my Caramel Latte Tea has gone straight to my head OR it could just be that I am so not used to sitting in a public coffee spot and typing on a computer that I have completely forgotten how to write!
Normally this isn't something that I would do but I jokingly told MizCyn the other day that were I to actually get a laptop that I would then go sit at the local Starbucks or Seattle's Best and post an entry to my blog. She wasted no time in telling me in no uncertain terms what she thought of that idea and told me not to even think about it (and to think she calls herself a Californian - sheesh!). Her declaration, of course, made me all the more determined to do it so when Amanda asked me earlier today if we could go to Borders after I got home from work, I decided that it was the perfect time to provide my good friend the opportunity to once again roll her eyes to the East!
The only reason that I am able to do this at all is because I finally did get myself a laptop - a rather nice Dell Inspiron 1501 actually - which now gives me the means to go mobile should I choose to do so. I've already become rather enamored of this new technological toy of mine not only because I can now sit on the couch and post blog entries while watching the latest episode of Grey's Anatomy (or sip over-priced tea in a high-end coffee shop while blogging) but because it has 1 GB of memory and an 80 GB hard drive that moves at lightning speed - especially compared to the Compaq dinosaur that I've been used to fighting with.
The only drawback so far has been Amanda wanting to borrow the Dell all the time as the new PC that I ordered to replace the dinosaur has yet to arrive (it should be in sometime early this week and then the child will be totally happy). Other than that, I am a happy woman - pretentious right at the moment yet happy! And yes, Cyndi, I promise that today's visit to a WiFi cafe was a one-time thing ... perhaps ... maybe ... or then again maybe not!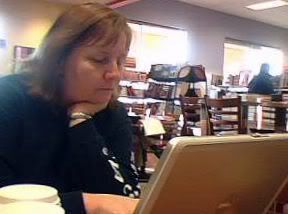 Me at Borders with my new toy!