Grab the code and join the fun
here
!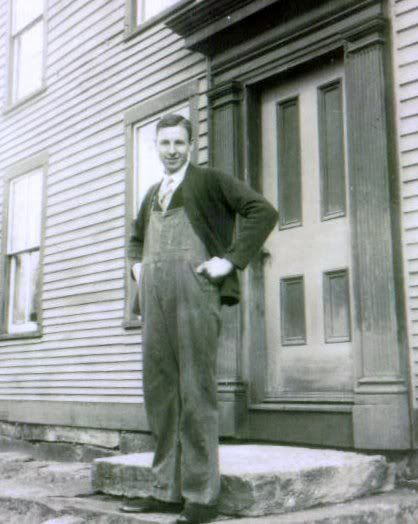 The theme for this week's photo hunt is "antique" and after thinking about what I might own that I could take a picture of that would fit this theme it dawned on me that, if he were still alive today, my beloved grandfather would certainly qualify as an "antique". To that end I am posting a picture of my grandfather, Charles E. Hart, standing on the steps outside of his parents' home in Canterbury, Connecticut a long, long time ago!

I'm not exactly sure how old Gramp is in this picture but I'm willing to bet he was a young man on the verge of starting life on his own. He eventually married my grandmother who had come over from England with her parents and siblings. Together they had seven children, their oldest daughter being my mother, and eventually they built their own house on the land across from the house where this picture was taken. Both houses still stand today but, sadly, neither of them are in the family any longer.

Gramp was born on July 25th, 1904 and died on August 22, 1972 from leukemia. To say that I idolized him would be an understatement and to this day I still miss the man who had a smile and laugh for everyone. He will always be my favorite "antique".
Saturday Photo Scavenger Hunt Participants
Get the code and join the Blogroll here!
View More Saturday Photo Scavenger Hunt Participants
Powered by... Mister Linky's Magical Widgets.