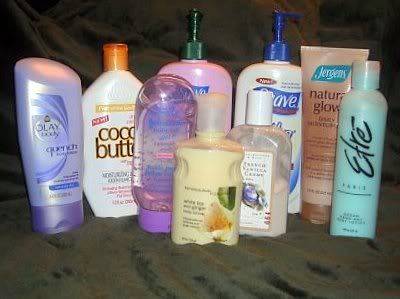 Yes, yes, I know - I'm really reaching for this week's theme of "soft" but after wracking my brain for awhile I finally came upon this - every bottle of lotion that I have in the house that is designed to make one's skin

soft

! And even though you can't see it very well, all of those bottles are sitting on top of the incredibly soft and cozy micro-fleece blanket that my cousin gave me for my birthday last September (in my favorite color of green!) which has been my very favorite soft thing in the house all winter.

What more could one want other than soft skin and a soft blanket to wrap it up in?

Saturday Photo Scavenger Hunt Participants
Get the code and join the Blogroll here!
View More Saturday Photo Scavenger Hunt Participants
Powered by... Mister Linky's Magical Widgets.