We all get them - forwarded emails that we either delete without looking at or glance right over without much thought before deleting them. Every great once in awhile, though, I get something that I consider worth sharing not only with those in my address book but with those of you who take the time to read this blog.
I got one such email yesterday from a friend and, having some extra time, I decided to go ahead and watch the video that was attached. He should have warned me that I needed some tissue close at hand because it was a story that not only moved me but brought a tear to my eye because it was the story of someone who was not just saying that he supported our troops but was actually doing it. And not just the fella that was highlighted but a bunch of other folks in the Dallas/Fort Worth area.
If you missed "The Person of the Week" on the ABC Evening News back on February 2nd, I urge you to click here and be sure to watch the video that goes along with the story - but you might want to go grab that tissue beforehand!
Sarge Charlie and Sgt. Dub - I thought of you both when I saw this ... Sarge Charlie, because I know and I am sorry that there was no great reception upon your return from Vietnam and Sgt. Dub, because I hope there is one for you when you finally return to Oklahoma from your second tour in Afghanistan. And not just for you but for all of our brave men and women proudly and selflessly serving overseas. Every single one of them deserves a pat on the back and a thank you for a job well done - it's nice to see that they're doing just that in Texas.
Two of my favorite "blog buddies" that I am honored to have met!
Sarge Charlie, proud Veteran of the United States Army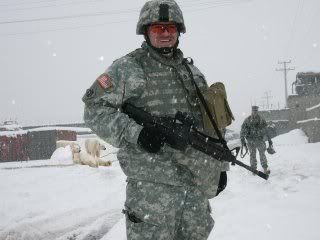 Sgt Dub, proudly serving in Afghanistan