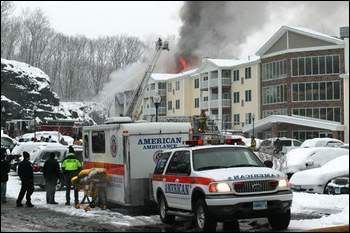 The above picture is how my day started out last Monday ... minutes after I walked into the room and started getting turnover from the out-going dispatcher we heard Norwich Fire toned out for a possible structure fire on Stonington Road. The scanner had barely stopped squawking when our direct line to NPD lit up with a request for our Rehab Unit to respond to the scene.
The Rehab Unit is that 16-foot trailer you see sitting behind our paramedic chase vehicle (also known as Gamma 1). The trailer is a climate-controlled environment where trained medical personnel can monitor vital signs (blood pressure, heart rate & rhythm, and respirations) for firefighters and Haz-Mat technicians. The NFPA (National Fire Protection Association) requires a certain range of "normal" vital signs for post-fire activity and a stricter set of vital signs for Haz-Mat technicians both pre- and post-entry. The range of vital signs is based mostly on height, weight, and physical condition. Once a certain amount of body weight is lost through fluids it has to be replaced and medical personnel in the Rehab Unit provide rehydration so that firefighters can continue their job of fighting the fire.
In addition to sending out the Rehab Unit, we also send out at least one ambulance to standby in case someone needs to be transported to the hospital. In the case of this particular fire, we sent out three ambulances as the fire was at an apartment complex and there was the potential for multiple victims. This was a lot to deal with at 6:50 in the morning sans coffee but I couldn't exactly throw everything on hold while I got a much-needed caffeine infusion (memo to self: pick up coffee on the way into work!)
Thankfully most people were evacuated from the buildings very quickly and there were no fire victims, though we did transport several people from the scene for other medical issues. It wasn't until almost 1:00 that my units at the scene were freed up to do other calls and by then the day had gone the rest of the way down the tubes. Suffice it to say, it wasn't fun but I did eventually get some coffee into my system and that helped immeasurably.
Back when I worked at the Norwich Police Department in addition to dispatching police officers, I also handled fire dispatch so I had a pretty good idea what my compatriots across the street were going through on their end. If the noise the scanner was making was any indication of the type of day they were having, I fervently hoped that they had gotten their coffee on the way into their shift as chances were it was too busy for them to make a break for the coffee pot in the Chief's Conference Room! But knowing the people across the street, I know that they, like myself, were pretty much glued to their consoles and chairs for the duration because most dispatchers are going to want to stay with "their" people throughout the incident. Call it an occupational hazard but we get attached to those people we send into harm's way.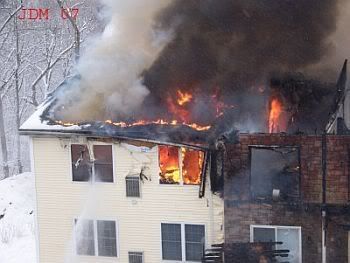 Whereas I may be sitting in a nice cozy (well, maybe not cozy!) dispatch center, there are a lot of guys and gals out at the fire scene who are far from cozy. Instead they're putting their own lives on the line to save other lives and protect property in a job that some might call crazy but which is vital to every community. Granted I might be juggling six things at once but none of them are going to kill me - unless I have a stress-induced heart attack and have sent all of my medics out of the building on other calls and left no one to revive me! The people out fighting fires run many risks including falling through a roof, smoke inhalation, burning debris, etc., etc. The risks are innumerable.
But they love it ...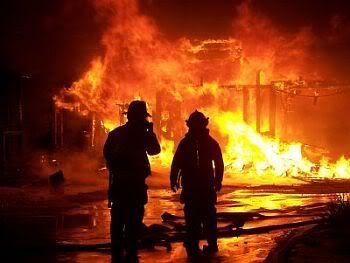 I have never had a great desire to run into a burning building no matter how many times I may have watched Backdraft (it's one of those things that's right up there with jumping out of a perfectly good airplane - other people may enjoy it but it's not for me!) but since I went to work in EMS I have met a lot of people who not only like going into burning buildings, they do so on a volunteer basis. At last Monday's apartment fire in Norwich, the City of Norwich Fire Department was assisted by no less than ten other departments - eight of which were volunteer departments.
Volunteers. Why do they do it? What could make people dedicated enough to get out of their warm beds in the middle of the night, to leave in the middle of a meal, to forego whatever it was that they were doing at the dropping of a set of tones or beeping of a pager? What could make them put in hundreds of hours of unpaid training and practice? What could make them want to endanger their own lives for free? Well, more than the flashing lights, blaring sirens, driving the big red truck and wearing cool turn-out gear it's a sense of pride and desire to help other people in a time of need.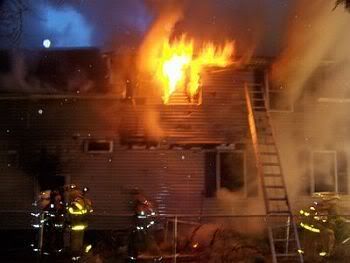 I asked one of the many volunteer firefighters I know why he had joined his local department and he said, "Because I like to help those that need it the most. When people call 911 they are in need and I like the feeling of being able to step in and provide that help. I also like the feeling of being able to walk into a situation that is completely out of control and recognize what needs to be done and do it. Knowing I had something to do with a good outcome is a great feeling and knowing that the training and sacrificing I have done paid off is ... great."
Considering the overwhelming number of fires we have had in Connecticut this winter alone, I think it's more than great that there are men and women like him who have that dedication and desire to help others. Without them there are many communities that would have no one close to come when they called 911 for whatever their emergency was - water in the basement, car accident, fire, medical emergency, or _____ - you fill in the blank.
Fire Prevention Week won't be observed until October 7th-12th this year but it's never too soon to tell your local volunteers thank you. The job they do is nothing short of amazing and awe-inspiring. Please join me in thanking them for the tough job that they do and for being there should we ever need them; I'm sure they'd appreciate hearing it!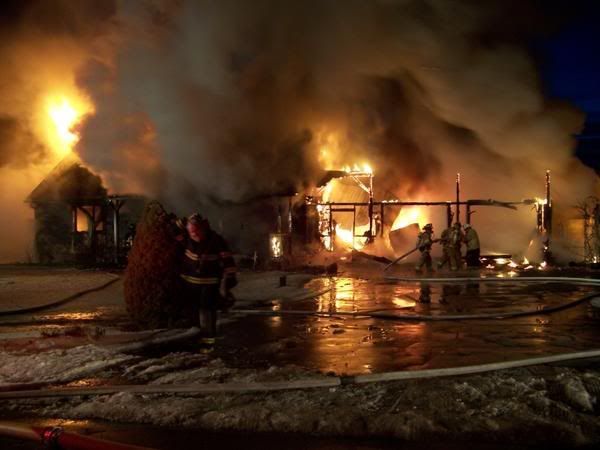 A big thank you, also, to Josh Maloney of
Windham County Fire Shots
for allowing me to use his great fire pics! More photos, as well as a video recap of January and February fires, can be found by clicking the link and visiting his page. Tell him I sent you!