While trying to think of what to do a post on today, I finally decided that maybe it was time to go more for the "visual" rather than the "cerebral" after remembering a comment that
Gem
had made in a post over on her blog about Captain Jack Sparrow where she stated that "
eye liner on a man never looked so good
".
Whereas I am certainly NOT going to argue with that statement!, I thought it might be nice to introduce you to some of the other sexy guys out there who have the whole eyeliner-wearing thing down to an art. If you've been a regular reader of this blog then some of these names are going to ring a bell and if not - well, just enjoy anyway!
Anyone who has read this blog for any amount of time has got to be familiar with Gerard Way, the front man for
My Chemical Romance
, Amanda's favorite band and one that I have come to like quite a lot myself. Yeah, yeah - I'm 48 and should be listening to Neil Diamond or Bob Dylan but what can I say? Those guys are old and not all that hot whereas MCR's music is good, their lyrics have meaning, and the man is damned cute!
For those not familiar with Gerard, he is a New Jersey boy and holds a Bachelor's Degree in Fine Arts from the
School of Visual Arts
in New York City where Amanda hopes to go after high school. He formed
My Chem
(as they are fondly called) in 2001 after the 9/11 attacks prompted him to want to make a difference. Despite the fact that people like to label them as an "emo" band,
M
y Chem
does not
promote violence of any sort and encourages their listeners to seek help if they are depressed or feel like they want to hurt themselves or others.
Next up is a guy who knows how to wear eyeliner better than a lot of women - Jared Leto. Jared hails from Louisiana and is the lead singer and back up guitarist for
30 Seconds from Mars
, a band that he formed with his brother Shannon who plays drums. Their last album,
A Beautiful Lie
, produced not only some excellent music but some great videos, too. I highly recommend checking them out!
Jared also attended the School of Visual Arts in New York City and he holds a BFA in Film and Video. In addition to his work with
30 Seconds f
rom Mars
, Jared is an actor and has starred in many films as well as playing Jordan Catalano in the series
My So Called Life
on television. He's also 35 which doesn't make him all
that
much younger than me - not that it will make a difference in the big scheme of things!
Last, but certainly not least, is a guy that I don't think I ever would have even considered putting in this post were it not for his recent performance in
Spiderman 3
as the "dark, Emo Spidey". When Toby Maguire, as our hero Peter Parker, put on the black Spiderman suit, he went from a mild-mannered Clark Kent wanna-be to an eyeliner-wearing, hip-swaying, finger-snapping, downright smoldering Super Hero who also was a bit of an ass. Ah, but the ladies loved him and Amanda practically squee'd (again) right there in the movie theater.
I had a little trouble finding a second sexy picture of our friendly neighborhood Spiderman so I hope you'll enjoy this little dance instead!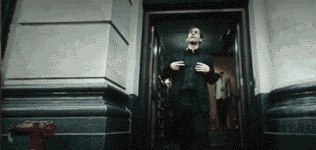 So there you have it, four guys who I think look pretty damned sexy in a cosmetic formerly reserved for ladies and one that I can't apply myself because I end up sticking myself in the eye with the pencil causing myself to cry and smudge what small efforts I might have made!

Anyone else care to contribute a guy who fits this list? I'm always up for more calorie-free "eye" candy!