I got a message from
Hootin' Anni
yesterday that she had left me a lovely little Halloween treat over on her blog and when I popped over to get it - this is what I found -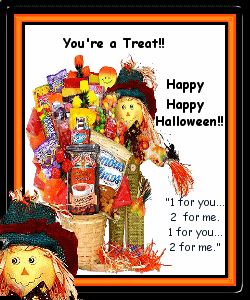 Isn't that just the cutest thing for Halloween and Fall? Over at
Hootin' Annie's Spooky Hollow
she's giving away between one and five cute little treats every day to various bloggers who visit during the week. For those who are awarded one of these treats, Annie says that you're more than welcome to pass it on to more bloggers who you might think are deserving. She refers to it as "paying it forward" and encourages bloggers to pass it on to not just friends but to random bloggers who have visited as a way to make new friends and spread the happiness.
What a great idea! If you receive one of these treats, Annie just asks that you link it back to her blog and let people know where the idea originated so she knows how far and wide her treats have gone. I think this sounds like a wonderful idea so I am passing this one on to a couple of new bloggers who have either visited me or who I have found otherwise and one blogger whom I've been reading for quite some time but who I think definitely deserves a treat!
First would be Sassy Lucy of The Cafe at the End of the Universe who was sweet enough to leave a comment on my post "October - The Eighth Month?"
Second goes to a new blogger who just made her debut on October 17th - Pinky of Cheese In My Shoe - welcome to the Blogosphere, Pinky!
And third goes to one of my regular reads, BEadHAPPY of Life, to make a long story short.

Enjoy your treat ladies and feel free to pass it on - just don't forget to link it back to
Hootin' Annie
!
In addition to that wonderful treat above, I was also presented the following one from Sandee at
Comedy +
who got it from Ann at
A Nice Place In The Sun
who got it from from her best friend Christy at
Christy's Coffee Break
who got it from Misty Dawn at
My Dogs Keep Me Sane
who got it from - you guessed it -
Hootin' Annie
! Isn't it fun how all this works??
Thank you Sandee! I love candied apples and you, too! And because I think they might like them, too, I'm passing this one on to a couple of friends -
Mighty Mom of My Wonderful Life because she introduced me to Pinky and she thinks I'm Such a Silly Goose!;
BankerChick of BankerChick's Scratchings because I think she's sweet, too;
And my sister separated at birth, Jamie at Durward Discussion, because it's a treat to read her blog and to get comments from her, too!
I just love treats - and I hope you all do, too! And this kind is sugar-free, too!