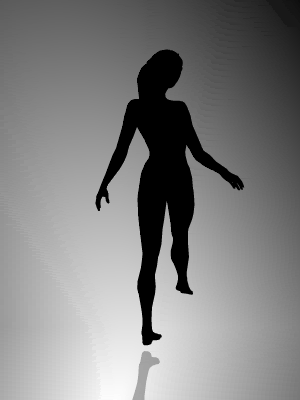 I've seen this a couple times now - the first was from my supervisor at work last week and then this week I got it in an email from a friend. I thought it was cool when I first saw it and still think it's cool now so thought I would pass it along to see what you thought.
The way this works is that if you see the dancer turning counter-clockwise then you are using the left side of your brain. Left brain functions are considered to be:
uses logic
detail oriented
facts rule
words and language
present and past
math and science
can comprehend
knowing
acknowledges
order/pattern perception
knows object name
reality based
forms strategies
practical
safe
If you see the dancer turning clockwise instead then you are said to be using the right side of your brain (is that like being in your right mind??). If that's the case, right brain functions are said to be:
uses feeling
"big picture" oriented
imagination rules
symbols and images
present and future
philosophy & religion
can "get it" (i.e. meaning)
believes
appreciates
spatial perception
knows object function
fantasy based
presents possibilities
impetuous
risk taking
Some people are able to focus and make the dancer change direction. Even though the dancer appears primarily going clockwise for me, I can change the direction but I think it's more the angle that I'm looking at her from so I'm not sure if that means when I tip my head my brains pour more into one side or the other (kind of like a sand sculpture!) but either way it's fun and a good way to pass a few minutes!
So how about you? Are you in your
right mind
or do you use more of your left?