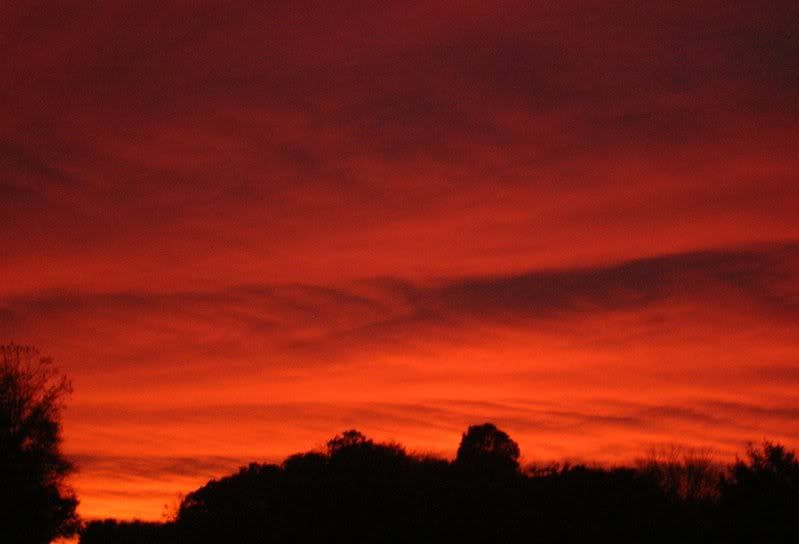 While Amanda and I were driving to Cromwell last night to meet up with
Carrie
&
Mags
, the skies were turning a beautiful shade of red as the sun set in the west. Amanda took some pictures from the sunroof of the car as we drove down Route 2 at 65 mph and all things considered I think they came out pretty good!
Whenever the sky is red like that, I always remember the saying
"Red in the morning, sailors take warning; red sky at night, sailor's delight."
that my Mom taught to me when I was just a kid. My Mom learned it from her father but the saying actually originated in the New Testament Book of Matthew, Chapter 16, Verses 2 & 3 when Jesus "... answered and said unto them, "When it is evening, ye say, it will be fair weather: for the sky is red. And in the morning, it will be foul weather today: for the sky is red and lowring."
Normally, the saying proves pretty accurate when it comes to dusk (though not so accurate when it comes to dawn!) but in the case of this weekend, it was completely and totally off-base as we're being hit by the remnants of Hurricane Noel, the fifth hurricane of the 2007 season that has now become a huge coastal storm over the northwest Atlantic. It's about as rainy and windy as it can get out there today with predicted wind gusts of 65 mph along the coast! Had sailors been relying on last night's sky to determine their weather for today, I'm afraid they would have been sadly mistaken but it was awful pretty, wasn't it??