I was recently presented with a couple of very nice awards from some very nice bloggers and wanted to make sure that I got them posted before this brain of mine, which seems to be doing a lovely imitation of swiss cheese and being full of holes lately, completely forgot!
First off I got this lovely - and deceptively heavy! - award, which I was unable to find the origin of, from Pinky @
Cheese in My Shoe
. Pinky is still fairly new to the Blogosphere but she's a lovely person with a lovely little blog and she really writes from the heart. Case in point - she recently wrote a post about the loss of her newborn daughter five years ago and it was a post that really touched my heart while she wrote of a loss that no mother, or father, should ever have to go through - ever. Please take the time to go over and read
Babies ... Memories ...
and you'll see exactly what I mean.
In closing her post, Pinky wrote:
"This was terribly scary for me to post. I hope I didn't scare anyone away, but if I did, I guess I don't really care. I'm tired. I'm sad. I'm worn out. Let me just say ... this is part of who I am. I want to be transparent. I want to be who God made me to be. I'm posting this because I've felt conflicted since I've started blogging. I've been afraid to talk too much about Angel and losing her, but then I felt guilty for not talking about her. So I post this for myself, I guess. To be true to myself and to honor my daughter and what we went through together. I'm not ashamed of it. I'm not afraid to talk about it. I choose when and where, but I'm not at all ashamed. I'm proud of my girl and I'm proud of what God has done in my life through her. There. I'm done."
I admire Pinky for having had the courage and conviction to share such a tremendously difficult time of her life and I hope that by opening up like she has, that she will be able to draw strength and comfort from some of the many wonderful people who can be found online. I think that she most definitely honored her daughter and, at the same time, she honored herself. It should be I who is passing an award on to her.
Thank you, Pinky, for this award and please know that your blog is a treasure to me also!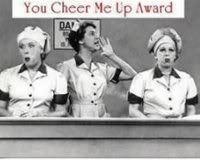 Another award that I recently received, the
You Cheer Me Up Award
, originated from Ann @
A Nice Place In The Sun
and was given to me by two other fantastic bloggers - Dixie @
Dixie's Heart & Soul
where you'll find the proud mother of a United States Marine (Semper Fi, Matt!), and Captain Jean-Luc Picard himself @
Captain Picard's Journal
. It was so sweet of Dixie to stop cheering for her University of Memphis Tigers Basketball Team long enough to present me with such an honor and as for Jean-Luc ... well, what can I say there but I am flattered and honored and am hoping he'll go just a little easier on me in our next game of
Scrabulous
on Facebook! Then again, going easy on me won't help me with my vocabulary so ahead Warp Factor Eight, Captain!
It is always very nice to receive an award from a fellow blogger and to know that somehow my writing either made that person smile or think or laugh or maybe even cry every once in awhile. You
all
honor me by reading my posts and leaving comments and having made me a part of your cyber-world.