Manic Monday
host Morgen of
It's a Blog Eat Blog World
has given us the word "two" for this week. So I had to think what could I write about using the word "two"? What might people find of interest?
Hmm, well, I could write about my two failed marriages – nah, too boring. I could write about my two daughters – nah, I do that a lot anyway. I could write about my two grandsons – nah, maybe not as my son has yet to send me any new pictures despite that lovely digital camera he got for Christmas. What about my two tattoos? Nah, I think I've written about those before, too. So what to write about? Think, think, think …
Finally it dawned on me that I could write about two of Amanda's favorite bands that I've taken to listening to lately –
AFI
and
Blaqk Audio
. Not only is it two bands but two of the band members of
AFI
make up the band
Blaqk Audio
when they branched out to do something just slightly different in between recording albums with the rest of their main band. By golly that's two uses of the word "two"! Perfect!
Just to give you some background on
AFI
, the band originated in 1991 in the small town of Ukiah, California when two friends formed a hardcore punk band and called it
AFI
(
A Fire Inside
). Those two friends, vocalist Davey Havok and drummer Adam Carson, were attending high school at the time along with guitarist Markus Stopholese and bassist Vick (who was replaced after several months by Geoff Kresge). They played a few local shows and released a split 7" titled
Dork
as well as an EP titled
Behind the Times
before the band broke up so that its members could attend different colleges. During a holiday break the band got back together to play a reunion show and audience response was so positive that they decided to quit school and concentrate on music full-time.
1997 saw some changes in the band when Geoff Kresge left and was replaced by bassist Hunter Burgan before guitarist Markus Stopholese departed and Jade Puget took his place. In addition to taking on the role of lead guitarist for the band, Puget also started sharing songwriting duties with Havok. The restructured band released an EP titled
A Fire Inside
in 1998 followed by
Black Sails in the Sunset
in 1999, a more mature full-length CD. A year later
The Art of Drowning
was released and even though the band already boosted a loyal core base of fans, the single
Days of the Phoenix
saw those numbers grow along with its moderate success.
In 2003
AFI
crossed over into the mainstream with their major-label debut album
Sing the Sorrow
for Dream Works. With the release of that record, their fan base grew considerably while national news publications praised them and several singles found airplay on MTV. In June of 2006 they released their seventh and most labor-intensive record to date,
Decemberunderground
which debuted at number one on the Billboard charts and became an instant success.
Anyone who's ever played
Guitar Hero III
is probably quite familiar with the song
Miss Murder
which is off of the album,
Decemberunderground
. I've played it a number of times myself (on the medium level) and can't listen to the song now without going over the finger movements in my head! Amanda has also done a drawing based on the song
Love Like Winter
which was also released as a single off of the same album and is one of
AFI
's most popular and recognizable songs.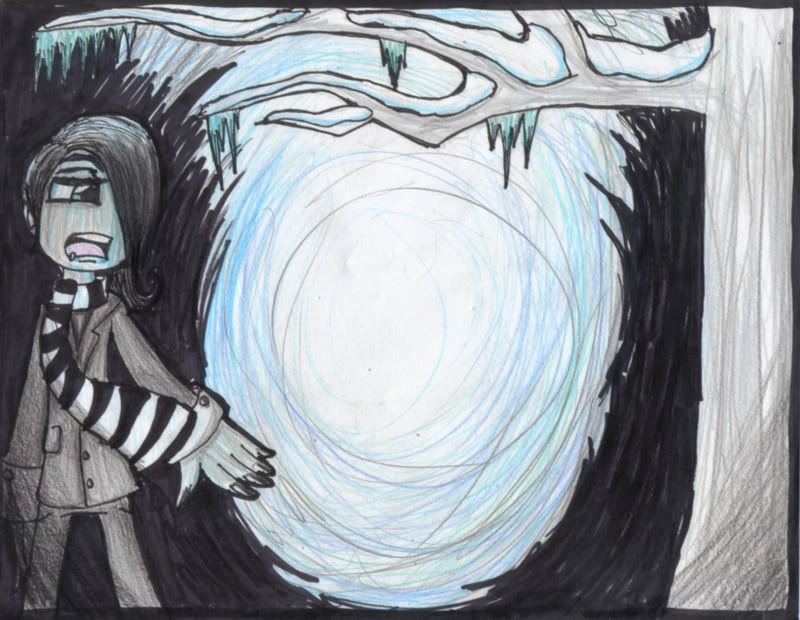 Love Like Winter

by Amanda
As a side project to
AFI
, Davey Havok and Jade Puget formed an electronic band called
Blaqk Audio
. According to vocalist and lyricist Havoc, the concept began at some point between 2001 and 2002 and then went on hiatus for an extended period of time before being revived in 2006. Puget, who writes and programs the music, worked on the development of
Blaqk Audio
in his spare time during
AFI
's tour schedule. He would write the songs before sending them to Havok to write melodies and lyrics. As Puget explained, "Everything's electronic, no instruments. We've been experimenting -- everything from industrial to ambient stuff. We're just going to see what happens."
What happened was that after being signed to Interscope Records,
Blaqk Audio
released their first album,
CexCells
, in August of 2007 and gained another fan in the form of my oldest daughter. Even though their music has been described as "Electronic body music" which is mainly known by its acronym EBM - a music genre that combines elements of industrial music and electronic punk music,
Blaqk Audio
's music mostly falls under the genre of "Electropop" - music that is mostly a pop song at heart, often with simple, catchy hooks and dance beats, but differs from other forms of electronic music like techno, house, electroclash, etc. because strong songwriting is emphasized over simple danceability. If that sounds all Greek to you don't feel bad - if I didn't have a 15-year old daughter who listened to this sort of stuff I'd have no clue what I was talking about either! At any rate, this certainly explains why Amanda has been bugging me about wanting a keytar!
Where Would You Like Them Left
so that you can get an idea of what type of music I'm writing about here.
Blaqk Audio
has yet to put out an actual music video for any of their songs but if you'd like to keep up with them, you can visit their website at
BlaqkAudio.com
or you can check out their
MySpace blog
where they also keep their fans up-to-date on the latest news.
And that's my take on "two"! If you'd like to see what other people thought about the word then pop over to Morgen's and check out some of the other
Manic Monday Minions
!