When I saw that Morgen at
It's a Blog Eat Blog World
had declared this week's
Manic Monday
theme to be "
night
", I actually did a small happy dance as I had just gone out the night before and taken some pictures around town which I planned on using in a post at some future time. What a delight that I was able to use them so soon and for
Manic Monday
no less!
In addition to the pictures that I had taken (like the one of the flag outside of dispatch), my friend Dennis had uploaded a few to his
Flickr
account that he had taken from the roof of American Ambulance, where we work. Night photos all around - woohoo! Morgen, you couldn't have chosen a better theme for this week - thank you!
The three pictures below were taken by Dennis with his Nikon D3 and show the view of the Marina at American Wharf as well as downtown Norwich from the building where we work. Dennis told me he took these pictures around 11:00 p.m. or so and in the second two you can see the Strawberry Moon that had risen over Norwich. That moon was the reason I had been wandering around Norwich in the dark, too, but I wasn't able to get any shots of it myself. Oh, and just to show what a short commute to work I have, my house is located almost exactly below that moon!
So, what was I taking pictures of while waiting for the moon to rise that night? First off Amanda, Darci, and I stopped by the Hebrew Cemetery in Preston which is located just outside of the old Norwich State Hospital grounds. Even though I used to be scared to death of them when I was younger, cemeteries at night don't bother me in the least anymore and I actually like to take pictures of them to see if I can capture any sort of phenomena on the pictures - like orbs. If you look closely at these pictures, you can definitely spot orbs in places and they aren't reflections from a flash as I was using the camera on night landscape mode and there was no flash.
Just as a side note, when I took those pictures I was standing outside of the cemetery wall so don't think I was wandering around in there aimlessly at night. I'm not that brave or that disrespectful.
After deciding that the moon was apparently not going to show up in the sky anytime soon, the girls and I climbed into the car to head across town in an effort to see if we could see the moon closer to the river. While en route, Amanda decided to play around with the camera a bit ...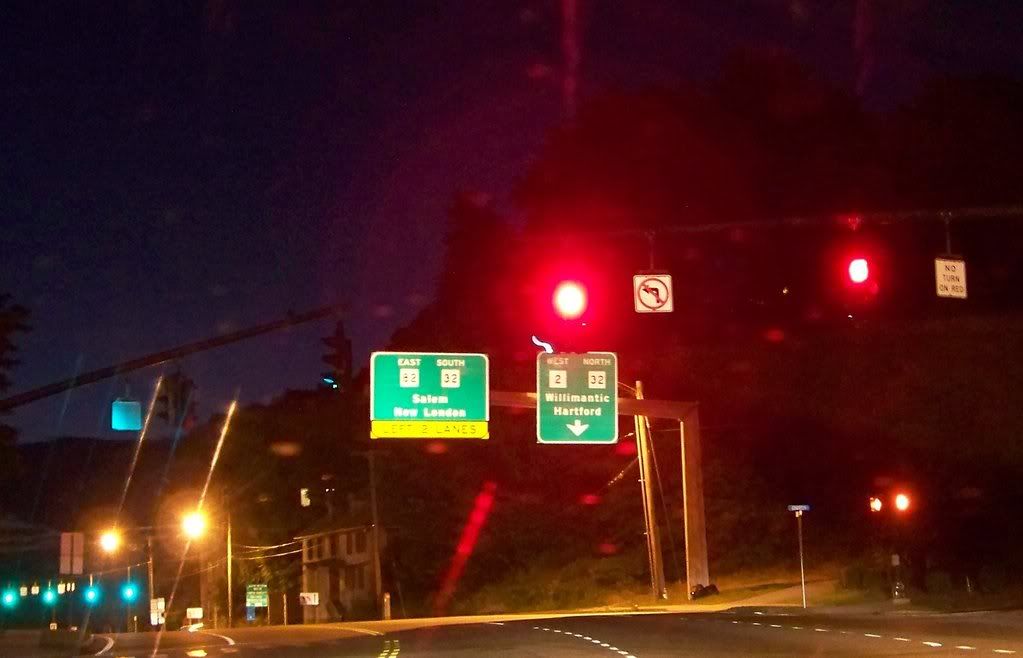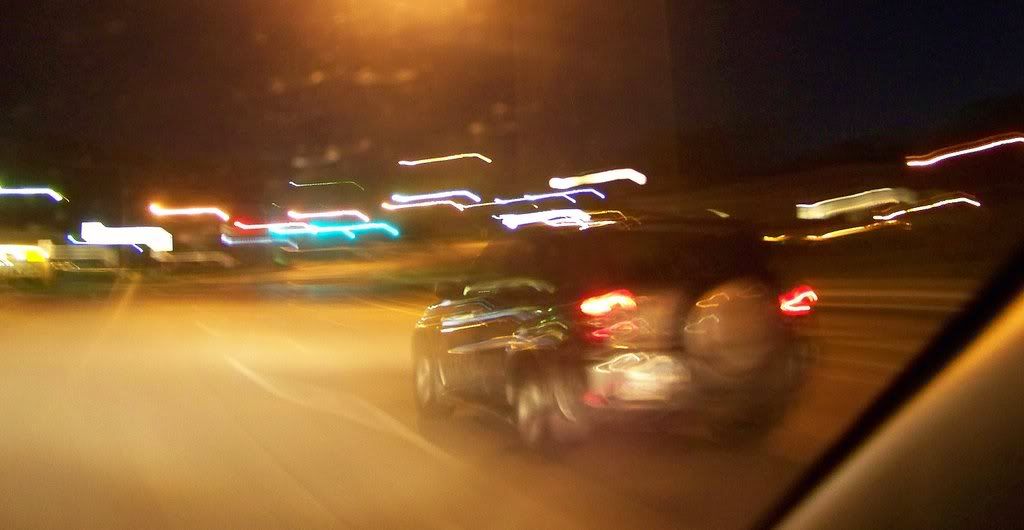 Unfortunately, once we got to where we were going by the side of the Thames River, there was still no moon so I ended up with just this one shot of Norwich as you view it looking up the river towards the harbor and the marina. The white tower is Norwich City Hall which actually looks quite nice lit up at night.
Chances are, that picture would look a heck of a lot better if I had Dennis' Nikon D3 but sadly, the best I could do was my own Kodak EasyShare Z712 IS. All things considered, I think it does okay though I think from now on if I need a night shot or two, I'm going to ask Dennis to get them for me!
If you'd like to see what other people are doing in the night, be sure to check out
Morgen's Manic Monday Meme
at
It's a Blog Eat Blog World
where each week it's a different word for us to play with. Go ahead and join in next week - you know you want to!