When I began blogging a bit over two years ago I had no idea that I was going to make so many wonderful new friends but that's exactly what has happened and I feel my life is that much more enriched because of them. The chance to meet new people really has become the best part of blogging.
One of the nicest people that I've met through the virtual world of blogging I also had the extreme pleasure of meeting in real life when I was out in California last May. It turns out that not only does she have a fantastic sense of humor, a very handsome husband, and a hot boat but she's also got a birthday in September and that birthday is today!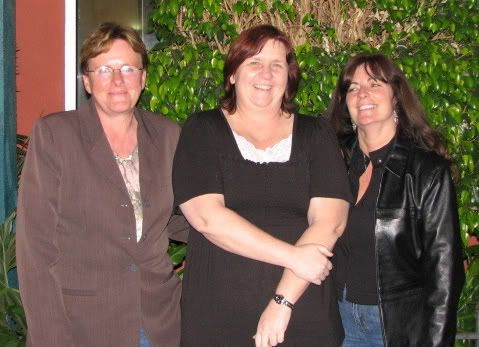 Sandee, myself, and Katherine in May

Be sure to go by
Comedy Plus
and wish Sandee a very happy birthday and while you're at her blog I'm sure you'll be able to find something to make you laugh right out loud (not that fake LOL stuff but actually laugh right out loud!) as she finds some of the best jokes ever to share with us every single day!
Normally in the Blogosphere we like to post pictures of cake in honor of another blogger's birthday but no cake today because I think there's something Sandee might like even more ...
Here's to you, Sandee, and best wishes for the happiest of birthdays! May there be many, many more for you and Zane to share together! I am very proud to call you my friend!