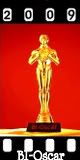 Imagine my surprise and delight to find that I am the recipient of one of this year's
Bl-Oscars
awarded by none other than
The Sanni-Camedy
! I was awarded the Bl-Oscar for
Achievement in Blog Design
and even though I would like to take credit for this award myself, I really need to pass this award on to Se7en of
Blogs Gone Wild!
who designed my blog for me a few years ago.
The problem is, though, I haven't been able to find Se7en. He hasn't posted an update on his website since December of 2007 and the last post on his personal blog,
Evil Se7en
, was over a year ago. To put it simply, I'm worried about the guy as I know that he had some medical problems in the past as well as trying to recover from Hurricane Katrinia and it seems strange that he has just disappeared off the face of the Blogosphere. If anyone knows where Se7en might be, please let me know and in the meantime I'll accept this lovely award from Sanni and hang onto it for him.
If you'd like to see who else won a Bl-Oscar, be sure to pop over to
It's Sanni-licious
to see the entire list. I promise there are no boring actors or actresses opening envelopes and most of the acceptance speeches are short ... well, except maybe for Maggie May from
Misty's Musings
who got a little carried away but as a dog, perhaps she didn't know that shorter is better when it comes to acceptance speeches!
Thank you again, Sanni - I am honored to have been included!