I'm still working on editing my Las Vegas pictures (never mind the ones from my time in California as well as the 250+ that I went out and took yesterday!) but I finally got a few done from our trip to the Stratosphere Hotel and Casino which boasts the tallest observation tower in the United States. At 1,149 feet it's definitely up there!
Our original plan had been to hit up the Stratosphere on Thursday but after watching the weather forecast on TV which called for high winds and possible rain on Thursday, I suggested to Jen that we head in that direction on Wednesday after conference sessions instead.
As you can tell from the pictures, Wednesday was absolutely beautiful and there was hardly even a breeze to speak of so it seemed like the perfect time to take a ride up the elevator and check out Vegas from a slightly higher than bird's eye view! Originally we had thought about having dinner in the restaurant at the top of the tower but then decided that the prices were definitely in the stratosphere, too, so we decided to skip the experience. Nothing for nothing but $12 for a baked potato is a little out of my price range!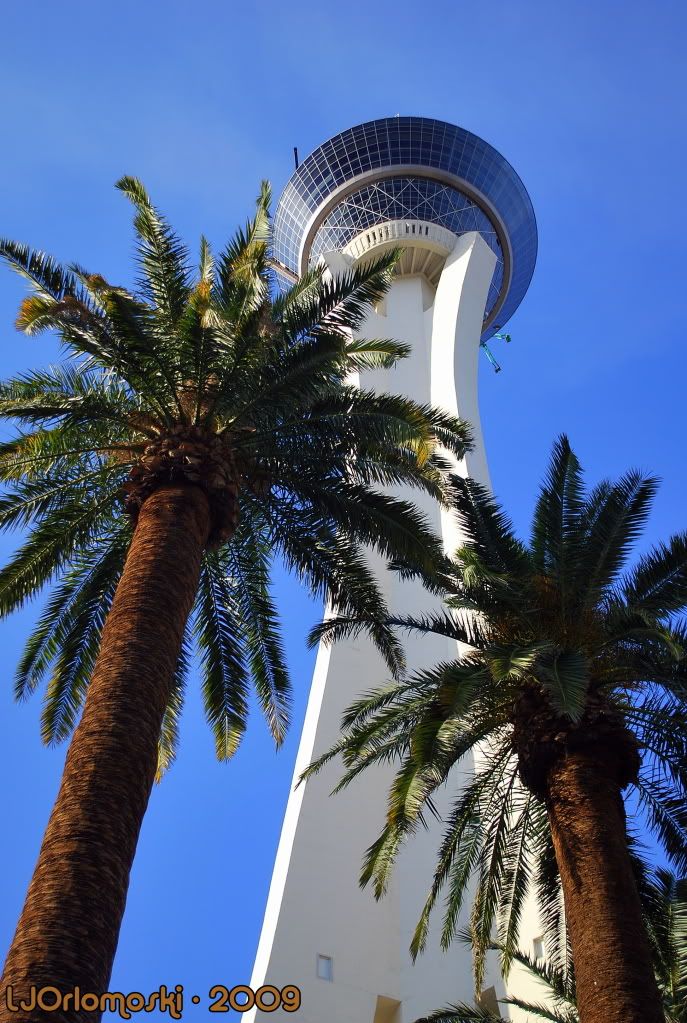 Jen had it in her head that she was going to ride on the
Big Shot
which shoots riders an additional 160 feet up into the air via a burst of compressed air and I had it in my head that I was going to NOT do that. In addition to that whole fear of heights thing I have, I also had a great fear of messing up my back so even if I'd had a brief burst of insanity and thought I wanted to go on the ride, too, common sense prevailed from the lumbar region of my spine!
After paying $13.95 to go up the tower (Jen's ticket cost $19.95 which included one ride on the
Big Shot
; compared to the $14 she paid for just the rollercoaster at New York New York it seemed to be quite the deal) we took the elevator to the 107th floor and parted company.
While Jen made her way to a second elevator to take her up to the ride, I made my way up some stairs to the 109th floor observation deck to try to get some pictures. The picture on the left is the actual ride that Jen was on but she was on the other side from where I was standing and I don't think you can even see her legs as they are obstructed by the tower. She said the ride scared the beejeebers out of her but she was glad that she had been brave enough to go on it. The teenager in me who still hasn't quite gone into hiding briefly wished I had been able to go, too, but the old lady with the bad back knew better and swallowed the minor disappointment and went back to taking pictures!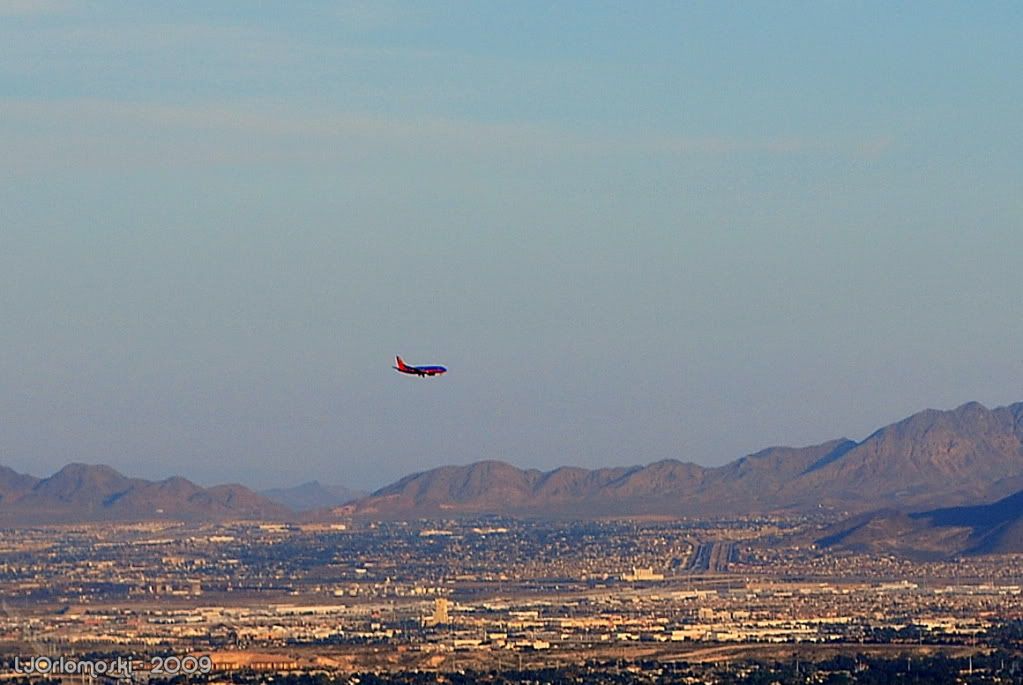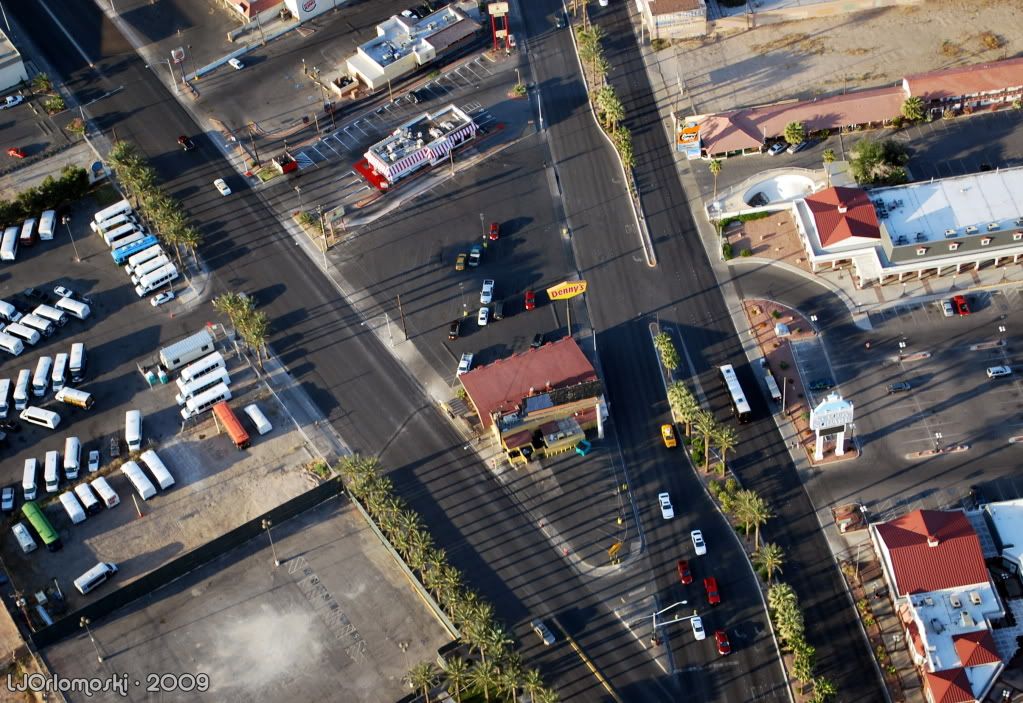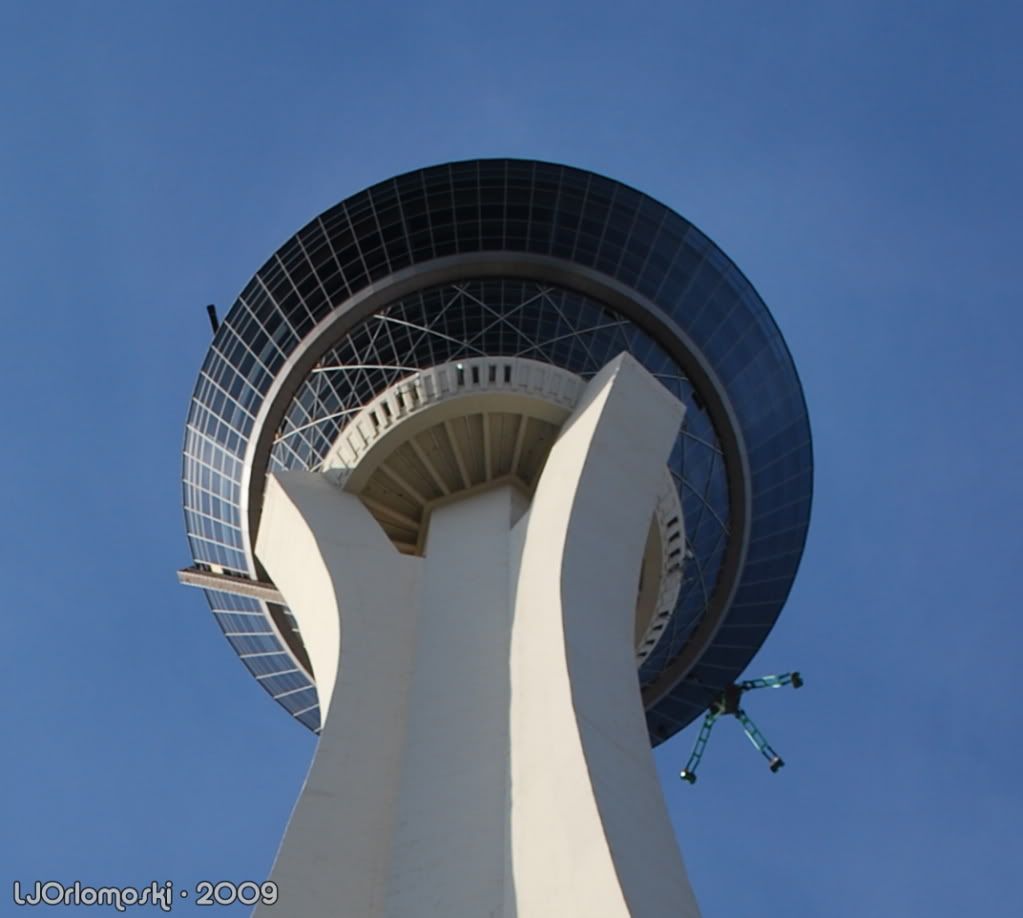 The views really were spectacular from the top of the tower and I wasn't as nervous as I thought I might have been but that's probably because I was too in awe of some of the crazy people who were walking around on top of that tower. You see, even though Jen was sort of crazy for going on the
Big Shot
, there were people that were going on rides that made the
Big Shot
look downright lame and tame. You see that octopus looking thing hanging over the right side of the tower? That's called
Insanity, The Ride
and it extends 64 feet over the edge of the tower and spins riders at a force of 3 Gs. They called it
Insanity
for a very good reason!
Insanity
actually looked like it might be fun but on the other side of the tower is another ride that had my palms sweating just looking at it! The
X-Scream
is a giant green teeter-totter that propels riders 27 feet over the edge of the Tower and hangs them there at 866 feet above the ground. Yep,
866
feet above ground and the thing looks like it's just going to keep right on a'going over the edge and plummet its riders straight to the Las Vegas Strip way, way, way down below! Even that small bit of teenager in me who missed being able to go on the
Big Shot
was scared of that one; I'm not sure if love or money would have gotten me on the thing! I took enough pictures to put together a slideshow for you so that you can get a bit of an idea what I'm talking about with both rides ...
Craziness, eh? Ah well, people looked like they were having a good time and after all, what's more fun than going on something that looks like it's going to splat you all over the sidewalk?!? Woohoo! How about you? Would you have the guts to go on any of these rides??