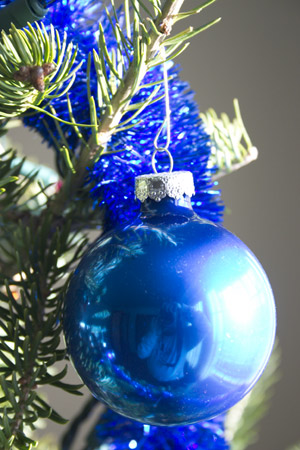 First sung by Ernest

Tubb

in 1948, this particular Christmas song has been recorded by well over thirty artists including - but certainly not limited to - Elvis Presley, The Beach Boys, Vince Gill, Willie Nelson, Fats Domino
, The Platters,
Ringo Starr,
Chris Isaak, Dean Martin, John

Bon

Jovi

, Big Bad Voodoo Daddy, Harry

Connick

Jr., Sheryl Crow, Booker T. & the

MGs

,
Leon

Redbone

,
Tammy

Wynette

, Celine Dion, the Partridge Family, and even Porky Pig.


The version I like best is by
Jim Reeves
, one of my mother's favorite country singers who died in a tragic plane crash in July of 1964 . There were not enough

o's

in smooth to describe the way that man could sing and his version of "

Blue Christmas

" is sure to bring a tear to every listener's ear or you're even more cold-hearted than the people who don't like "

The Christmas Shoes

"!


At any rate, no matter how many versions of "

Blue Christmas

" are out there - this song is particularly poignant for me this year as this will be the first year

ever

that my youngest daughter has not been here to share Christmas with me. Unfortunately, due to financial circumstances with both her father and I, we are not able to fly Jamie out for the holidays as has been done every year since she moved to Kentucky and there were no other reasonable alternatives that we could come up with either. One of the toughest things I've had to do all year is listen to her cry while I tried to explain to her why I wouldn't be seeing her for Christmas. Sometimes I wonder just how many times a heart can break before it's beyond repair?


Because I feel the need to blame this on someone, I am going to blame this one

squarely

on the greed of the airline companies, I figure they have wide shoulders and can handle it. It's not so much that the plane ticket itself is that expensive but because Jamie is only 13, we also have to pay what's called an "unaccompanied minor fee" for both legs of the trip. Depending on which airline your child is flying on, this charge varies from $75 to $99 and adds another $150 to $198 on to the total cost of the ticket, which in some cases is more than the price of the ticket itself!


Now don't get me wrong, I am all for airline safety and not allowing children to wander alone through large airports but I think that's a pretty exorbitant amount of money to charge for walking a child from one gate to another (and parents/guardians must meet the child at the gate or drop the child off at the gate depending on if you're on the receiving or sending end of the flight). And get this - even if the child doesn't change planes, for example on a non-stop flight or a continuing flight, you still have to pay between $50 and $75 for the child to just
sit
on the plane. Can we all say
ridiculous
??


Regardless of who I want to place the blame on, though, what it comes down to is that I'm trying real hard not to think about the fact that Jamie won't be here this year for Christmas but every time I hear "

Blue Christmas

", no matter who sings it but especially Jim Reeves, I get choked up. For all that she drives me crazy with her

AC/DC

music and the constant squabbling with Amanda, she's still my baby and to not have her here for the holidays is beyond depressing.


Damn
eHarmony
.com for not being able to find someone suitable for my ex to marry right here in Connecticut so that I could have all my children around for Christmas. Damn the airlines for their exorbitant prices that those of us who are trying to scrape by can't afford. And while we're at it - damn those 30+ versions of "
Blue Christmas
" ...